Mobile App Features List

A mobile app, together with it's cutting edge technology, will offer your clients an engaging experience and will ultimately lead to retention, reduced servicing costs, increased revenue and improved customer satisfaction.
Our apps have over forty five (45) options to select from. These have proven to be enormously popular with customers and a wide range of companies in different industries alike. We are also able to develop a fully customized mobile app for you if our vast feature list doesn't already include what you require.​
A complete listing of features can be seen underneath. It is also adviseable to download some of our other client's mobile apps and see for yourself some of the features they have chosen for their mobile app. In addition we have developed over 50 mobile apps in the past year , so there may well be a mobile app type that we have not featured on our website that would satisfy your requirements.
A mobile app is unlike any internet site, social media or email campaign in the way customers can interact with it. Mobile apps on the back of the technology of today can utilise the smartphone's builtin technical capabilities such as GPS. With GPS integration your app becomes "location conscious". It knows where it is using Google or Apple geo-location services.
This is particularly useful when you want to target customers inside a determined geographical area - permitting you to send messages, discounts, coupons and targeted marketing messages to your customers based upon where they are currently located.
​Consequently you've got the ability to push the best information, at the right time to the precise group of people you want. This positive engagement will increase satisfaction and the value you offer them.
FIND OUT HOW YOU CAN BENEFIT

Click the button for a no-obligation free consultation about your mobile app!

Some of Our Mobile App Features + Many More
---
Some of Our Mobile App Features in More Detail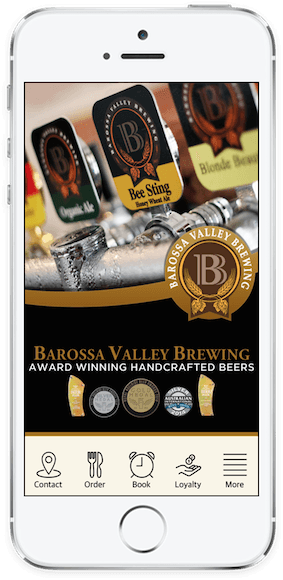 Customised Appearance

Make your app your own, with your own style and appearance.

Website Integration

Connect with your website to perform transactions or display webpages.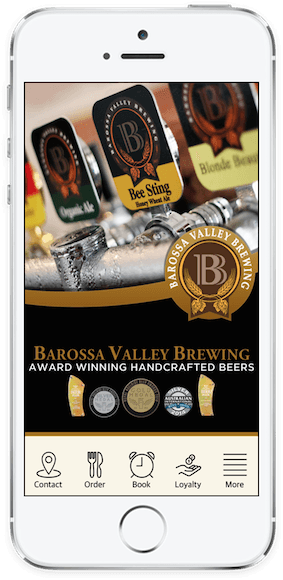 Social Media

Connect customers to your social media channels to build a social engagement strategy.
Loyalty Programs

Increase repeat visits through loyalty
Virtual Reward Cards – set & stamp
GPS Check-In – visit in store to unlock QR Code – Scan to receive an offer
Messaging or Push Notifications

Send exclusive app messages to users
Immediate, Scheduled or Automated
Initiate engagement when you want 24/7
Location Aware
Initiate engagement where you want
Compelling
Deliver text, image & or video messages
Effective
98% open rate
Message Bank
View, Save & Delete received messages
Contact Details

One-Touch technology that offers the user multiple ways in which to contact your business from within the app.
Call Us
Dials a designated number

Directions
Turn-by-turn hands free navigation
Email and Website
Website address and email address
Opening Hours
Trading Days and Times
Comments and Reviews
Manage comments from customers​
About Us

Show off your business and your team members

Drill Down & Multiple Pages

You can set up your business information three levels deep so users can view menus, products, services and other content you want them to be aware of.

Shopping Cart

Users can shop from within your app just as they would on your website

3rd Party Integration

You can integrate 3rd party tools such as Shopify, Volusion and WooCommerce

Flexibility
Integrate your existing shopping cart or create your own within the mobile app

Events

Promote events you hold in the future and manage attendees

Full Event Management

Add an event into your calendar
I'm going shows you are attending

About shows details about the event

Comment on the event

Attend showing those wanting to go

Gallery allowing users to upload images

Directions to the event with navigation

Bookings

Allow your users to book a reservation, appointment or car service from within the app and at the same time upload the booking to their calendar with an automatic reminder

3rd Party Integration

Online booking tools such as Groupon, Open Table, Front Desk, Mind Body, Book Steam can be integrated with your bookings

Points of Interest

Multiple Points of Interest can be categorised and displayed within the app

View

Display your Points of Interest in a Map view or a List view
Profile

You can show Logo, Description. Images, Comments, Contact Details, Social Media, Directions

Use Cases

- Locations of your branches
- Nearby Points of Interest that are relevant to your customers
- Around Us
- Business or Community Directories

Connect With Us

Allow customers to easily connect with your social media channels from within the app

YouTube Channel

You can sync your YouTube account to display and play videos in the app

View

Display your Points of Interest in a Map view or a List view
Profile

You can show Logo, Description. Images, Comments, Contact Details, Social Media, Directions

Use Cases

- Locations of your branches
- Nearby Points of Interest that are relevant to your customers
- Around Us
- Business or Community Directories

Newsletter

Sign up customers to your newsletter or customer database from inside the mobile app. You can customise what information you want to collect from them and then export these contacts into and email campaign
3rd Party Integrations
Email marketing services such as MailChimp, Campaign Monitor, iContact, GetResponse and Constant Contact can be integrated with your app

Display Documents

You can display and have any type of brochure, catalogue or pdf documents readily available to your clients. e.g. legal document, onboarding form, etc

Custom Forms

You can create any variety of form types for your users to complete and submit directly to you from inside the app. These can be integrated with the online form builder Wufoo.

Use Cases

- Service or Product Enquiries
- Feedback and Client Information Forms

App Camera

Users can be encouraged to capture and submit images through the app, which in turn can be used for awesome social content and on your website.

All images are reviewed and approved by you.

Image Gallery

Your image gallery can be used to show case your best side. Images are optimised for Android and Apple devices.
Images can be categorised by album or per event and can also include captions.

3rd Party Integrations

- Instagram
- Flickr
- Picasa

Share the App

Make your app go viral with easy ways to share the app link to friends and family from within the app and using multiple distribution channels.

Fan Wall

Your Fan Wall can be used to connect and communicate intereactively with customers.

This community can be easily managed and gives you the ability to manage posts by users.

Multimedia

Music
Play and purchase songs and albums from iTunes and Sound Cloud
Audio
Sync podcasts for in app streaming of your recordings
Blogs
Include RSS feeds for users to easily read any blog or website post
News
Live News can be displayed to users
Voice Recorder
Record an audio file inside the app

Calculators, Tabs & Memberships

Loan Calculator
An easy to use loan calculator for users to calculate repayments on their loans.

Tip Calculator
When dining out this is a handy function to have in your app to calculate the tip for two or more people.​
Score Tab
Keep track of your favourite teams score at games you follow​
Membership
By creating a username and password for an area of your mobile app you can create a closed membership function to your mobile app

Mobile Food Ordering

You can let your customers order food while they walk. They can select what they want from your menu and then pay for it within the app, while you receive an email and printable confirmation.

3rd Party Integrations

Easily link your chosen food and menu ordering tools into your mobile app. Example: Grubhub, East24, Olo, Seamless, Onosys, OnlineOrdering.com and MyCheck

Car Finder

What a handy feature to give to your customers. None of that "Where did I park my car?" Users can find their car using GPS directions and avoid penalties with the parking meter reminder service that's built into this feature. You can also share your car's location in Google Maps.

App Analytics

For you to maximise your return on investment in your mobile app, it's important that you understand how your customers are using your mobile app. Look at statistics such as who, what, when, etc so that you can target your marketing efforts in the right direction. With focussed targeted marketing you will ensure a positive return on your efforts.

App Management

App Management tools and Dashboard keep you in control of your app through your own Content Management System. From here you can manage content and functionality easily.

Contact us for more features and benefits for your mobile app...

I'M READY FOR A MOBILE APP

Click the button below and send us your contact details for a no-obligation free consultation about your mobile app!